As much as I want to keep posting fun stories about our life in our little piece of Italian paradise, we don't seem to be able to escape the reality of a country in lockdown anymore.
On the one hand we know we're very lucky to be surrounded by green hills with an infinite number of walking trails and even after 12 years we still haven't discovered them all. So we plan to explore new paths and insert them in the Wikiloc app for our guests.
The last years we also enjoy an excellent internet connection, so there's always Netflix, Prime Video, social media … to keep us busy.
Yesterday our builders were able to come and finally start with the excavations for our new swimming pool.
At the moment we don't know anybody who has the virus, so fingers crossed it will stay that way thanks to the extreme measures Italy is taking.
On the other hand we are feeling the first consequences in our professional life.
No cancellations of bookings yet, also because this year we only open in may. The question is: will we be able to even open in may? The uncertainty is starting to weigh on me.
But our real estate activities are heavily impacted by the lockdown limitations. This week we had to go to Bergamo to sign papers for Belgian clients who weren't able to come over due to the virus, but now we're stuck too. So, it's postponed. Other clients asked linguistic support at a notary, but only the people who sign will be allowed to go in, so that has been canceled. I had an appointment in Sardinia at the end of them month, but the flight has been canceled of course. All viewings of houses will be postponed of course, so everything seems to come to a halt.
But this is nothing compared to what my best friend Eleonora is going through. She is in her 37th week of pregnancy, has been in and out of the hospital for weeks now. Yesterday she had to go in again and received the news visitors aren't allowed in anymore, not even her fiancé and not even when she will give birth.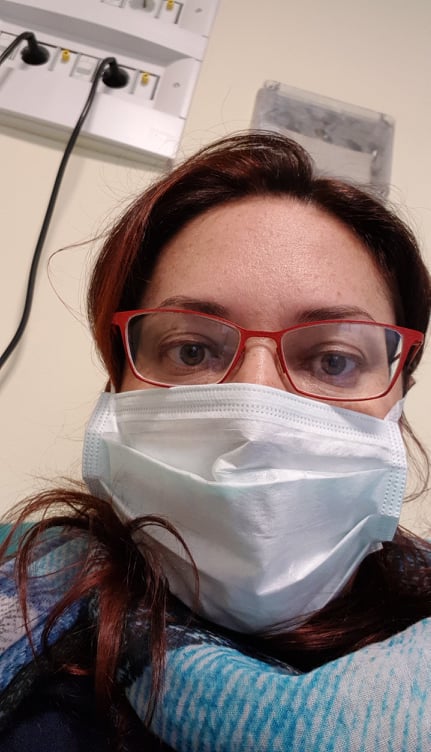 You can imagine the stress she is going through now. I try to cheer her up from a distance by chatting a lot on messenger, but knowing hospitals are risky places to be during an outbreak I'm really worried about her and her baby. So, fingers crossed and lots of positive thoughts please !