Spend your farm holiday away from the crowds of the main cities on our traditional Italian farmhouse "Agriturismo Verdita" and discover the tranquility and beauty of rural Piedmont.
Agriturismo Verdita is a pristine place that can offer you serenity, silence, green paths ideal for trekking, horse riding and biking. It's also a perfect starting point to explore Piemonte and Liguria.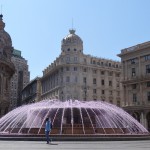 Possible activities / daytrips
Walk the "Sentiero 575". This path takes you around the little village of Merana, on the "calanche", millions of years old sea dunes.
Discover the charming Piedmontese cities of Acqui Terme (30 minutes drive from Agriturismo Verdita), Alba (1 hour drive) and Asti (1 hour drive).
Enjoy the blue waters, the attractive coastline and beaches of the Italian Riviera, less than an hour away from our Agriturismo. Our favorite places at the coast: Noli, Varigotti, Loano, Finale Ligure and Varazze.
Discover the surrounding Medieval hilltop villages like Mombaldone, Denice and Montechiaro Alto, and drive around the countryside.
The world famous Barolo and Barbaresco vineyards are 1 hour away, and we are surrounded by Unesco World Heritage sites.
Piedmont has one of Europe's most elegant old cities in the shape of Turin, a monument to cafe society. You can reach Turin in 1.5 hours.
Genoa is another pearl of a city, but completely different and equally interesting because it has the largest medieval quarter in Europe.
Virtually every weekend throughout the year, villages hold events and festivals reenacting historical events or celebrating local food and wine.
You can go on a walk with our local truffle hunter. He shows you how his dogs find the best truffles there are.
Enjoy a relaxing afternoon in a luxury spa in Acqui Terme.