Merana is known as the village of ravioli and every year during the 2nd and 3rd weekend of June there is the "Sagra del Ravioli" where around 800 kg (1763 pounds) of ravioli is served to people who come from all over the region to taste them.
But where do all these ravioli come from? Who makes them?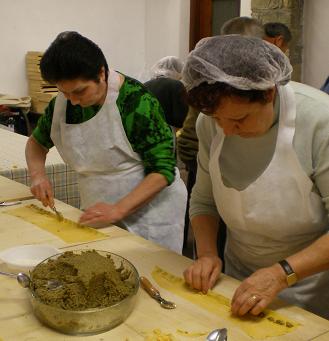 After moving here I soon found out that during the months before the festivities about 20 to 30 people come together 3 evenings a week to prepare the ravioli that are then frozen until needed. This sounded like a nice experience, so I decided I would help with this too.
When I arrived it was clear I was by far the youngest helper, there was even a 95 year old woman, who told me she started with this when she was 84. Everybody was hard at work at a pace I could only dream of. They were all concentrating on their work and when they talked I couldn't understand a word of it, pure Piedmontese dialect.
I came expecting having a relaxed evening, making new friends while learning how to make ravioli, instead it felt more like I was on an assembly line of a factory. The others apparently didn't feel the same, as they told me that for them these were the evenings they looked forward to, it was like going dancing when they were young.
After a few years and lots of back aches I decided to help out during the sagra and leave the ravioli making to the others. So, now I'm part of the cleanup crew. On some evenings we have more than 800 people coming for diner, so there is always enough work, but it's a lot of fun seeing people enjoy themselves, watching them dance and of course … as volunteer I get to eat the delicious ravioli too 😀